Gooya House of culture and arts 1999 - XIV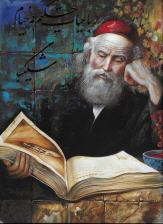 Gooya House of culture nd arts, 1999 Cover
RUBÁIYÁT OF OMAR KHAYYÁM = ROBÂÏYAT DE OMAR KHAÏYÂM. Rendered into English verse by Edward FitzGerald. Tehran, Gooya House of culture and arts, 1999.

Large volume, showing 94 quatrains in English, French and Persian. The English preface is by K. Movaghar who thanks A. Azad "for providing English translations of some of the quatrains, by other translators, where FitzGerald's versions were not available". It is not clear though who these other translators are. In the French preface H.A. Kavoussi refers to the French translation by E'tessam-Zadeh that appears in many of the Iranian polyglot editions, but doesn't get the credits that it deserves:
"Il est à rapeller qu'un iranien: A.G. Etessamzadeh [sic] consacra, lui aussi, une dizaine d'années de sa vie (1930-1940), à traduire en vers français un nombre important des robaï et de les reviser à chaquelle nouvelle publication … Malheureusement, et injustement, il fut la victime d'une grave ingratitude de la part de presque la totalité des éditeurs qui publièrent des receuils multilingues sans remémorer le nom du traducteur ni faire la moindre allusion à son émérite travail." Kavoussi also translated a number of quatrains into French; in this edition they are marked with a double asterisk.
There are 51 quatrains from FitzGerald's translations. 23 quatrains are from Rosen's edition of 1928 and 5 quatrains were taken from K. Emami's translation, published in 1988 by Souffles (Paris). The source of 15 quatrains, referred to as provided by A. Azad, remains unidentified.
These are the numbers
| | | | | |
| --- | --- | --- | --- | --- |
| 3 (E1) | 4 (E2) | 6 (E3) | 7 (E4) | 10 (E5) |
| 11 (E6) | 12 (E7) | 14 (E8) | 15 (E9) | 16 (E10) |
| 17 (E11) | 21 (E12) | 36 (E13) | 49 (E14) | 60 (E15) |
Number of quatrains:
FitzGerald (1859) - 37
FitzGerald (1868) - 10
FitzGerald (1879) - 4
Rosen (1928) - 23
Emami (1988) - 5
Unidentified - 15
| Index | F1 - 1859 | F2 - 1868 | F4 - 1879 | Rosen 1928 | Emami | NN |
| --- | --- | --- | --- | --- | --- | --- |
| 1 | 3 | | | | | |
| 2 | | | 69 | | | |
| 3 | | | | | | 1 (E 1) |
| 4 | | | | | | 2 (E 2) |
| 5 | 48 | | | | | |
| 6 | | | | | | 3 (E 3) |
| 7 | | | | | | 4 (E 4) |
| 8 | | | | 46 | | |
| 9 | | | | 89 | | |
| 10 | | | | | | 5 (E 5) |
| 11 | | | | | | 6 (E 6) |
| 12 | | | | | | 7 (E 7) |
| 13 | | 28 | | | | |
| 14 | | | | | | 8 (E 8) |
| 15 | | | | | | 9 (E 9) |
| 16 | | | | | | 10 (E 10) |
| 17 | | | | | | 11 (E 11) |
| 18 | | | | | 46 | |
| 19 | 14 | | | | | |
| 20 | | | | 65 | | |
| 21 | | | | | | 12 (E 12) |
| 22 | | | | 155 | | |
| 23 | | 44 | | | | |
| 24 | | | | 327 | | |
| 25 | | 109 | | | | |
| 26 | 31 | | | | | |
| 27 | | | | 85 | | |
| 28 | | 20 | | | | |
| 29 | | 48 | | | | |
| 30 | 44 | | | | | |
| 31 | 11 | | | | | |
| 32 | 34 | | | | | |
| 33 | | | | 57 | | |
| 34 | 42 | | | | | |
| 35 | | | | | 68 | |
| 36 | | | | | | 13 (E 13) |
| 37 | 2 | | | | | |
| 38 | | 55 | | | | |
| 39 | 15 | | | | | |
| 40 | 19 | | | | | |
| 41 | 53 | | | | | |
| 42 | 52 | | | | | |
| 43 | 21 | | | | | |
| 44 | | 8 | | | | |
| 45 | | 43 | | | | |
| 46 | 61 | | | | | |
| 47 | 8 | | | | | |
| 48 | | | | 297 | | |
| 49 | | | | | | 14 (E 14) |
| 50 | | | | 103 | | |
| 51 | | | | 310 | | |
| 52 | | 14 | | | | |
| 53 | 62 | | | | | |
| 54 | | | | 1 | | |
| 55 | 43 | | | | | |
| 56 | | | | 181 | | |
| 57 | 18 | | | | | |
| 58 | | | | 98 | | |
| 59 | | | | 147 | | |
| 60 | | | | | | 15 (E 15) |
| 61 | | | | | 22 | |
| 62 | 6 | | | | | |
| 63 | | | | | 4 | |
| 64 | 47 | | | | | |
| 65 | 46 | | | | | |
| 66 | | | | 14 | | |
| 67 | 10 | | | | | |
| 68 | 74 | | | | | |
| 69 | | | | 12 | | |
| 70 | | | | 28 | | |
| 71 | | | | 25 | | |
| 72 | | | | | 17 | |
| 73 | | | | 6 | | |
| 74 | | 68 | | | | |
| 75 | | | | 4 | | |
| 76 | | | | 260 | | |
| 77 | | | | 299 | | |
| 78 | 36 | | | | | |
| 79 | | | | 18 | | |
| 80 | | 105 | | | | |
| 81 | 37 | | | | | |
| 82 | 38 | | | | | |
| 83 | 22 | | | | | |
| 84 | 60 | | | | | |
| 85 | 28 | | | | | |
| 86 | 29 | | | | | |
| 87 | 16 | | | | | |
| 88 | 17 | | | | | |
| 89 | 20 | | | | | |
| 90 | 35 | | | | | |
| 91 | 58 | | | | | |
| 92 | 72 | | | | | |
| 93 | 54 | | | | | |
| 94 | 32 | | | | | |
From E'tessam-Zadeh's translation (1931) 35 quatrains were selected. Two more quatrains by E'tessam-Zadeh, numbers 19 (F 15) and 86 (F 20), appeared earlier in the edition by H.A.N. Esfandiary. From V. Monteil's translation (1983) 30 quatrains were selected and 26 quatrains were translated by H.A. Kavoussi. In this last series one quatrain appeared twice, as number 9 and number 10 (F 32). Finally, one quatrain remains unidentified: number 6 (F 28).
The 26 (=25) quatrains from Kavoussi are the following
3 (F29)
4 (F30)
7 (F31)
9 (F32)
10 (F32)
11 (F33)
12 (F34)
14 (F35)
15 (F36)
17 (F37)
18 (F38)
21 (F39)
22 (F40)
24 (F41)
25 (F42)
35 (F43)
36 (F44)
48 (F45)
51 (F46)
54 (F47)
60 (F48)
61 (F49)
63 (F50)
72 (F51)
73 (F52)
79 (F53)
Number of quatrains:
E'tessam-Zadeh (1931) - 35
E'tessam-Zadeh (Shumposha, 1972) - 2
Monteil (1983) - 30
Kavoussi (Gooya, 1999) - 26 (= 25)
Unidentified - 1
| Index | E'tessam 1931 | E'tessam 1972 | Monteil 1983 | Kavoussi 1999 | NN |
| --- | --- | --- | --- | --- | --- |
| 1 | 226 | | | | |
| 2 | | | 116 | | |
| 3 | | | | 1 (F 29) | |
| 4 | | | | 2 (F 30) | |
| 5 | 200 | | | | |
| 6 | | | | | 6 (F 28) |
| 7 | | | | 3 (F 31) | |
| 8 | | | 31 | | |
| 9 | | | | 4 (F 32) | |
| 10 | | | | 4 (F 32) | |
| 11 | | | | 5 (F 33) | |
| 12 | | | | 6 (F 34) | |
| 13 | 59 | | | | |
| 14 | | | | 7 (F 35) | |
| 15 | | | | 8 (F 36) | |
| 16 | | | 122 | | |
| 17 | | | | 9 (F 37) | |
| 18 | | | | 10 (F 38) | |
| 19 | | 14 | | | |
| 20 | | | 64 | | |
| 21 | | | | 11 (F 39) | |
| 22 | | | | 12 (F 40) | |
| 23 | 242 | | | | |
| 24 | | | | 13 (F 41) | |
| 25 | | | | 14 (F 42) | |
| 26 | 240 | | | | |
| 27 | | | 5 | | |
| 28 | 302 | | | | |
| 29 | 122 | | | | |
| 30 | 34 | | | | |
| 31 | | | 125 | | |
| 32 | | | 85 | | |
| 33 | | | 172 | | |
| 34 | 234 | | | | |
| 35 | | | | 15 (F 43) | |
| 36 | | | | 16 (F 44) | |
| 37 | 1 | | | | |
| 38 | 271 | | | | |
| 39 | | | 76 | | |
| 40 | 96 | | | | |
| 41 | 360 | | | | |
| 42 | 92 | | | | |
| 43 | 186 | | | | |
| 44 | | | 92 | | |
| 45 | 46 | | | | |
| 46 | 231 | | | | |
| 47 | 380 | | | | |
| 48 | | | | 17 (F 45) | |
| 49 | | | 50 | | |
| 50 | | | 135 | | |
| 51 | | | | 18 (F 46) | |
| 52 | 320 | | | | |
| 53 | | | 91 | | |
| 54 | | | | 19 (F 47) | |
| 55 | 178 | | | | |
| 56 | | | 117 | | |
| 57 | 64 | | | | |
| 58 | | | 129 | | |
| 59 | | | 137 | | |
| 60 | | | | 20 (F 48) | |
| 61 | | | | 21 (F 49) | |
| 62 | | | 154 | | |
| 63 | | | | 22 (F 50) | |
| 64 | 232 | | | | |
| 65 | 254 | | | | |
| 66 | | | 32 | | |
| 67 | | | 57 | | |
| 68 | 88 | | | | |
| 69 | | | 16 | | |
| 70 | | | 121 | | |
| 71 | | | 28 | | |
| 72 | | | | 23 (F 51) | |
| 73 | | | | 24 (F 52) | |
| 74 | | | 30 | | |
| 75 | | | 98 | | |
| 76 | | | 126 | | |
| 77 | | | 58 | | |
| 78 | 203 | | | | |
| 79 | | | | 25 (F 53) | |
| 80 | 348 | | | | |
| 81 | 294 | | | | |
| 82 | 124 | | | | |
| 83 | 18 | | | | |
| 84 | | | 68 | | |
| 85 | 284 | | | | |
| 86 | | 29 | | | |
| 87 | | | 17 | | |
| 88 | 17 | | | | |
| 89 | | | 33 | | |
| 90 | 30 | | | | |
| 91 | 218 | | | | |
| 92 | | | 109 | | |
| 93 | 111 | | | | |
| 94 | 286 | | | | |