Kashani [ca. 1960] - II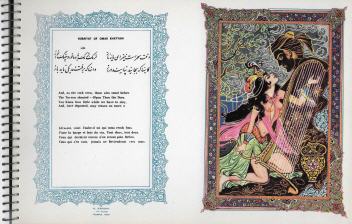 RUBAIYAT OF OMAR KHAYYAM. Tehran, Kashani, [ca. 1960]

Spiral bound, oblong presentation edition, with 50 quatrains, printed on one side of the leaf only. Probably intended as a gift book as the cover leaves a little open space for a dedication message. There were other, slightly different, booklets produced, with a varying number of quatrains.
Quatrains from Edward FitzGerald's translation (1859). Three quatrains appear twice: nrs. 5 (= 37), 21 (= 41) and 19 (= 29)

Number of quatrains:
FitzGerald (1859) - 50

| Index | FitzGerald 1859 |
| --- | --- |
| 1 | 37 |
| 2 | 46 |
| 3 | 19 |
| 4 | 38 |
| 5* | 72 |
| 6 | 35 |
| 7 | 68 |
| 8 | 17 |
| 9 | 32 |
| 10 | 61 |
| 11 | 5 |
| 12 | 51 |
| 13 | 1 |
| 14 | 60 |
| 15 | 9 |
| 16 | 63 |
| 17 | 70 |
| 18 | 6 |
| 19* | 69 |
| 20 | 15 |
| 21* | 42 |
| 22 | 12 |
| 23 | 66 |
| 24 | 74 |
| 25 | 3 |
| 26 | 21 |
| 27 | 27 |
| 28 | 25 |
| 29* | 69 |
| 30 | 44 |
| 31 | 62 |
| 32 | 75 |
| 33 | 10 |
| 34 | 57 |
| 35 | 47 |
| 36 | 50 |
| 37* | 72 |
| 38 | 40 |
| 39 | 13 |
| 40 | 22 |
| 41* | 42 |
| 42 | 71 |
| 43 | 4 |
| 44 | 54 |
| 45 | 14 |
| 46 | 49 |
| 47 | 43 |
| 48 | 64 |
| 49 | 73 |
| 50 | 55 |
The French quatrains are taken from A. E'tessam-Zadeh's translation, published in 1931. Two quatrains appear twice: nrs. 5 (= 37) and 21 (= 41)
Three quatrains appeared earlier in the edition by Tahrir-Iran (1955)
23 (F 1) 30 (F 2) 43 (F 9)
Number of quatrains:
E'tessam-Zadeh (1931) - 47
E'tessam-Zadeh (Tahrir-Iran, 1955) - 3
| Index | E'tessam 1931 | E'tessam 1955 |
| --- | --- | --- |
| 1 | 294 | |
| 2 | 241 | |
| 3 | 96 | |
| 4 | 124 | |
| 5* | 120 | |
| 6 | 130 | |
| 7 | 12 | |
| 8 | 17 | |
| 9 | 286 | |
| 10 | 231 | |
| 11 | 51 | |
| 12 | 73 | |
| 13 | 143 | |
| 14 | 233 | |
| 15 | 101 | |
| 16 | 56 | |
| 17 | 274 | |
| 18 | 158 | |
| 19 | 33 | |
| 20 | 159 | |
| 21* | 234 | |
| 22 | 83 | |
| 23 | | 5 (F 1) |
| 24 | 88 | |
| 25 | 226 | |
| 26 | 186 | |
| 27 | 182 | |
| 28 | 335 | |
| 29 | 61 | |
| 30 | | 32 (F 2) |
| 31 | 19 | |
| 32 | 185 | |
| 33 | 213 | |
| 34 | 351 | |
| 35 | 232 | |
| 36 | 306 | |
| 37* | 120 | |
| 38 | 121 | |
| 39 | 242 | |
| 40 | 18 | |
| 41* | 234 | |
| 42 | 133 | |
| 43 | | 43 (F 9) |
| 44 | 111 | |
| 45 | 202 | |
| 46 | 223 | |
| 47 | 178 | |
| 48 | 171 | |
| 49 | 297 | |
| 50 | 137 | |
There are 42 quatrains in German. One quatrain appears twice: nr. 19 (= 29). One quatrain, nr. 39, remains unidentified, it appeared earlier in the edition by Tahrir-Iran, 1955 (G 1). Eight quatrains have no equivalent in German: nrs. 2, 10, 17, 24, 25, 27, 40 and 50.

Number of quatrains:
Bodenstedt (1881) - 22
Von der Porten (1927) - 5
Rosen (1909 and 1919) - 5
Von Schack (1878) - 4
Rempis (1935) - 3
Preconi (1946) - 1
Von Hammer (1818) - 1
Unidentified - 1 (G 1)
| Index | Bod | Port | R'09 | R'19 | Sch | Remp | Ham | Prec | NN |
| --- | --- | --- | --- | --- | --- | --- | --- | --- | --- |
| 1 | | 17 | | | | | | | |
| 2 | | | | | | | | | |
| 3 | 172 | | | | | | | | |
| 4 | 386 | | | | | | | | |
| 5 | 152 | | | | | | | | |
| 6 | 64 | | | | | | | | |
| 7 | 361 | | | | | | | | |
| 8 | 232 | | | | | | | | |
| 9 | | | 40 | | | | | | |
| 10 | | | | | | | | | |
| 11 | 431 | | | | | | | | |
| 12 | 120 | | | | | | | | |
| 13 | | | | 115 | | | | | |
| 14 | 95 | | | | | | | | |
| 15 | 141 | | | | | | | | |
| 16 | | | 38 | | | | | | |
| 17 | | | | | | | | | |
| 18 | 249 | | | | | | | | |
| 19* | | | | | 278 | | | | |
| 20 | 153 | | | | | | | | |
| 21 | | | 58 | | | | | | |
| 22 | | | | | 22 | | | | |
| 23 | | 158 | | | | | | | |
| 24 | | | | | | | | | |
| 25 | | | | | | | | | |
| 26 | | | | | | 16 | | | |
| 27 | | | | | | | | | |
| 28 | | 140 | | | | | | | |
| 29* | | | | | 278 | | | | |
| 30 | | | | | | 196 | | | |
| 31 | | | | | | | | 75 | |
| 32 | 325 | | | | | | | | |
| 33 | 433 | | | | | | | | |
| 34 | 60 | | | | | | | | |
| 35 | | 102 | | | | | | | |
| 36 | | | | | | | 25 | | |
| 37 | 152 | | | | | | | | |
| 38 | | | | | 153 | | | | |
| 39 | | | | | | | | | 49 (G 1) |
| 40 | | | | | | | | | |
| 41 | | | 58 | | | | | | |
| 42 | 323 | | | | | | | | |
| 43 | 150 | | | | | | | | |
| 44 | 114 | | | | | | | | |
| 45 | | | | | | 45 | | | |
| 46 | 122 | | | | | | | | |
| 47 | 400 | | | | | | | | |
| 48 | | 178 | | | | | | | |
| 49 | 128 | | | | | | | | |
| 50 | | | | | | | | | |