Padideh 1987 - X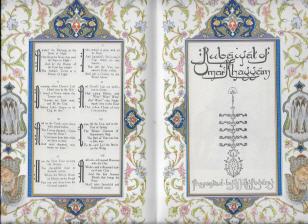 Padideh, 1987. Decorated pages
RUBAIYAT OF OMAR KHAYYAM IN 30 LANGUAGES. Prepared and arranged by Muhsin Ramazani . Tehran, Padideh, 1987

This edition was published by the Universal Esperanto Association, and some of the prefaces are in Esperanto. The pages are numbered from the back. Read Western style, the first section, pp. 665 – 475, shows 110 quatrains by FitzGerald; each quatrain is accompanied by a translation in Sanskrit and Desyandhram by A. Narayanadas.
The second section has selections from a number of western and oriental translations.
The third section includes 48 quatrains in various languages. The English quatrains are from FitzGerald's second edition, the French text is from Dulac's 1910 edition, and most of the German quatrains are from Preconi (1946). One quatrain is from Rosen 1909 and two German quatrains are unidentified.
48 quatrains from FitzGerald's second version, 1868

Number of quatrains:
FitzGerald (1868) - 48
| Index | FitzGerald 1868 |
| --- | --- |
| 1 | 3 |
| 2 | 29 |
| 3 | 95 |
| 4 | 2 |
| 5 | 33 |
| 6 | 5 |
| 7 | 62 |
| 8 | 9 |
| 9 | 30 |
| 10 | 22 |
| 11 | 78 |
| 12 | 61 |
| 13 | 74 |
| 14 | 38 |
| 15 | 12 |
| 16 | 108 |
| 17 | 27 |
| 18 | 60 |
| 19 | 16 |
| 20 | 6 |
| 21 | 93 |
| 22 | 94 |
| 23 | 75 |
| 24 | 24 |
| 25 | 1 |
| 26 | 45 |
| 27 | 98 |
| 28 | 82 |
| 29 | 8 |
| 30 | 91 |
| 31 | 102 |
| 32 | 73 |
| 33 | 92 |
| 34 | 105 |
| 35 | 39 |
| 36 | 50 |
| 37 | 32 |
| 38 | 35 |
| 39 | 21 |
| 40 | 49 |
| 41 | 76 |
| 42 | 104 |
| 43 | 57 |
| 44 | 34 |
| 45 | 20 |
| 46 | 18 |
| 47 | 68 |
| 48 | 19 |
The French quatrains are selected from Dulac's translation of 1910.

Number of quatrains:
Dulac (1910) - 48
| Index | Dulac 1910 |
| --- | --- |
| 1 | 3 |
| 2 | 29 |
| 3 | 95 |
| 4 | 2 |
| 5 | 33 |
| 6 | 5 |
| 7 | 62 |
| 8 | 9 |
| 9 | 30 |
| 10 | 22 |
| 11 | 78 |
| 12 | 61 |
| 13 | 74 |
| 14 | 38 |
| 15 | 12 |
| 16 | 108 |
| 17 | 27 |
| 18 | 60 |
| 19 | 16 |
| 20 | 6 |
| 21 | 93 |
| 22 | 94 |
| 23 | 75 |
| 24 | 24 |
| 25 | 1 |
| 26 | 45 |
| 27 | 98 |
| 28 | 82 |
| 29 | 8 |
| 30 | 91 |
| 31 | 102 |
| 32 | 73 |
| 33 | 92 |
| 34 | 105 |
| 35 | 39 |
| 36 | 50 |
| 37 | 32 |
| 38 | 35 |
| 39 | 21 |
| 40 | 49 |
| 41 | 76 |
| 42 | 104 |
| 43 | 57 |
| 44 | 34 |
| 45 | 20 |
| 46 | 18 |
| 47 | 68 |
| 48 | 19 |
Most of the German quatrains are selected from Preconi (1946). Two German quatrains are unidentified: number 25 (G 2) and number 48 (G 3).

Number of quatrains:
Preconi (1946) - 45
Rosen (1909) - 1
Unidentified - 2
| Index | Preconi 1946 | Rosen 1909 | NN |
| --- | --- | --- | --- |
| 1 | 2 | | |
| 2 | 27 | | |
| 3 | 134 | | |
| 4 | 1 | | |
| 5 | 32 | | |
| 6 | 5 | | |
| 7 | 95 | | |
| 8 | 8 | | |
| 9 | 28 | | |
| 10 | 25 | | |
| 11 | 110 | | |
| 12 | 94 | | |
| 13 | 107 | | |
| 14 | 43 | | |
| 15 | 10 | | |
| 16 | 150 | | |
| 17 | 26 | | |
| 18 | 90 | | |
| 19 | 13 | | |
| 20 | 15 | | |
| 21 | 135 | | |
| 22 | 131 | | |
| 23 | 108 | | |
| 24 | 14 | | |
| 25 | | | 25 (G 2) |
| 26 | 105 | | |
| 27 | 139 | | |
| 28 | 129 | | |
| 29 | 7 | | |
| 30 | 132 | | |
| 31 | 144 | | |
| 32 | 104 | | |
| 33 | 133 | | |
| 34 | 65 | | |
| 35 | 44 | | |
| 36 | 24 | | |
| 37 | 30 | | |
| 38 | 40 | | |
| 39 | 16 | | |
| 40 | 71 | | |
| 41 | 109 | | |
| 42 | 145 | | |
| 43 | 83 | | |
| 44 | 39 | | |
| 45 | | 13 | |
| 46 | 21 | | |
| 47 | 103 | | |
| 48 | | | 48 (G 3) |