Sina'i [ca. 1960] - III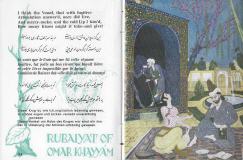 RUBÁIYÁT OF OMAR KHAYYÁM IN PERSIAN, ENGLISH, FRENCH, GERMAN, URDU. Preparation and arrangement by Mohsen Ramezani. [Tehran], Kitabkhanah-'i Sina'i, [ca. 1960].

This edition has a similar outline as the first volume discussed above: one or two original Persian texts of the quatrains, interspersed with pages showing separate quatrains in various languages. The polyglot section is preceded by the text of FitzGerald's fifth edition.
The English quatrains follow FitzGerald's first edition (1859) in their right order, so no table is required.

Number of quatrains:
FitzGerald (1859) - 75
The quatrains in the French section are taken from E. Dulac's translation into French of the quatrains from the second edition by FitzGerald, published in 1910. However, one of the 75 quatrains is a translation by E'tessam-Zadeh from his edition of 1931, i.e. number 45 (E'tessam-Zadeh number 19).

Number of quatrains:
Dulac (1910) - 74
E'tessam-Zadeh (1931) - 1
| Index | Dulac 1910 | E'tessam 1931 |
| --- | --- | --- |
| 1 | 1 | |
| 2 | 2 | |
| 3 | 3 | |
| 4 | 4 | |
| 5 | 5 | |
| 6 | 6 | |
| 7 | 7 | |
| 8 | 9 | |
| 9 | 10 | |
| 10 | 11 | |
| 11 | 12 | |
| 12 | 13 | |
| 13 | 15 | |
| 14 | 17 | |
| 15 | 16 | |
| 16 | 18 | |
| 17 | 19 | |
| 18 | 24 | |
| 19 | 25 | |
| 20 | 21 | |
| 21 | 22 | |
| 22 | 23 | |
| 23 | 26 | |
| 24 | 27 | |
| 25 | 29 | |
| 26 | 28 | |
| 27 | 30 | |
| 28 | 31 | |
| 29 | 32 | |
| 30 | 33 | |
| 31 | 34 | |
| 32 | 35 | |
| 33 | 37 | |
| 34 | 38 | |
| 35 | 39 | |
| 36 | 40 | |
| 37 | 59 | |
| 38 | 49 | |
| 39 | 56 | |
| 40 | 57 | |
| 41 | 58 | |
| 42 | 60 | |
| 43 | 61 | |
| 44 | 62 | |
| 45 | | 19 |
| 46 | 73 | |
| 47 | 45 | |
| 48 | 46 | |
| 49 | 74 | |
| 50 | 75 | |
| 51 | 76 | |
| 52 | 78 | |
| 53 | 79 | |
| 54 | 81 | |
| 55 | 82 | |
| 56 | 83 | |
| 57 | 87 | |
| 58 | 88 | |
| 59 | 89 | |
| 60 | 94 | |
| 61 | 91 | |
| 62 | 92 | |
| 63 | 93 | |
| 64 | 95 | |
| 65 | 96 | |
| 66 | 97 | |
| 67 | 98 | |
| 68 | 100 | |
| 69 | 101 | |
| 70 | 102 | |
| 71 | 103 | |
| 72 | 104 | |
| 73 | 109 | |
| 74 | 108 | |
| 75 | 110 | |
As in the polyglot editions the German quatrains are selected from a number of sources. Three quatrains from Bodenstedt's translation appear twice: nrs 5 -7, 36-59, and 54-55. There is no German equivalent for quatrain number 13.

Number of quatrains:
Bodenstedt (1881) - 40
Von Schack (1878) - 14
Rosen (1909 and 1919) - 9
Preconi (1946) - 3
Rempis (1935) - 3
Von der Porten (1927) - 3
Von Hammer (1818) - 2
| Index | Bod | Sch | R'09 | R'12 | R'19 | Port | Prec | Remp | Ham |
| --- | --- | --- | --- | --- | --- | --- | --- | --- | --- |
| 1 | | | | | 115 | | | | |
| 2 | 354 | | | | | | | | |
| 3 | | 224 | | | | | | | |
| 4 | 150 | | | | | | | | |
| 5 | 431* | | | | | | | | |
| 6 | 249 | | | | | | | | |
| 7 | 431* | | | | | | | | |
| 8 | 163 | | | | | | | | |
| 9 | 141 | | | | | | | | |
| 10 | | 125 | | | | | | | |
| 11 | 443 | | | | | | | | |
| 12 | | | | | | | | | 22 |
| 13 | | | | | | | | | |
| 14 | | | | | | | | 28 | |
| 15 | 153 | | | | | | | | |
| 16 | 231 | | | | | | | | |
| 17 | 232 | | | | | | | | |
| 18 | | 101 | | | | | | | |
| 19 | 172 | | | | | | | | |
| 20 | 261 | | | | | | | | |
| 21 | | | | | | | | 16 | |
| 22 | | 50 | | | | | | | |
| 23 | | | 77 | | | | | | |
| 24 | 279 | | | | | | | | |
| 25 | | 267 | | | | | | | |
| 26 | | 315 | | | | | | | |
| 27 | | | | 34 | | | | | |
| 28 | 74 | | | | | | | | |
| 29 | | | 37 | | | | | | |
| 30 | 229 | | | | | | | | |
| 31 | | | | | | | 39 | | |
| 32 | | | 40 | | | | | | |
| 33 | | | | | | | 103 | | |
| 34 | | | | | | 100 | | | |
| 35 | 64 | | | | | | | | |
| 36 | 444* | | | | | | | | |
| 37 | | 187 | | | | | | | |
| 38 | 386 | | | | | | | | |
| 39 | 417 | | | | | | | | |
| 40 | | 153 | | | | | | | |
| 41 | 87 | | | | | | | | |
| 42 | | | 58 | | | | | | |
| 43 | 400 | | | | | | | | |
| 44 | | 43 | | | | | | | |
| 45 | | 59 | | | | | | | |
| 46 | 466 | | | | | | | | |
| 47 | | | | | | 102 | | | |
| 48 | | | | 62 | | | | | |
| 49 | 122 | | | | | | | | |
| 50 | | | | | | | | | 25 |
| 51 | 120 | | | | | | | | |
| 52 | 111 | | | | | | | | |
| 53 | 104 | | | | | | | | |
| 54 | 114* | | | | | | | | |
| 55 | 114* | | | | | | | | |
| 56 | 17 | | | | | | | | |
| 57 | 60 | | | | | | | | |
| 58 | 20 | | | | | | | | |
| 59 | 444* | | | | | | | | |
| 60 | 95 | | | | | | | | |
| 61 | 361 | | | | | | | | |
| 62 | | | | | | | 75 | | |
| 63 | | | 38 | | | | | | |
| 64 | | | | | | 178 | | | |
| 65 | | 309 | | | | | | | |
| 66 | | 306 | | | | | | | |
| 67 | 387 | | | | | | | | |
| 68 | | | | | | | | 44 | |
| 69 | | 279 | | | | | | | |
| 70 | | | 84 | | | | | | |
| 71 | 323 | | | | | | | | |
| 72 | 152 | | | | | | | | |
| 73 | | 96 | | | | | | | |
| 74 | 128 | | | | | | | | |
| 75 | 325 | | | | | | | | |